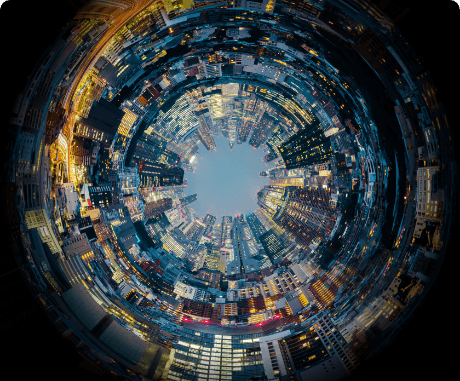 January 13, 2023
Everything you Need to Know About 360 Virtual Tours
A virtual tour is any digital solution that lets you walk around/explore a location or area without visiting it in person.
A virtual tour is a digital simulation of a physical location produced using a sequence of videos and images. Floor plans, music, sound effects, and other multimedia elements may also be incorporated to create a realistic representation and present a viable alternative to a physical visit to the location being shown in the tour.
How Is A Virtual Tour Made?
A virtual tour is made from a collection of panoramic rotating images stitched together to give a full 360-degree view of a physical location. Special lenses, cameras, and advanced techniques are typically used to create the tour for a complete and detailed visual experience for viewers. A typical virtual tour package would consist of high-resolution photos (also called "spins") of multiple locations in a site, joined together to form a complete virtual tour package.
What Is Virtual Tour Software?
A virtual tour software is a tool used by tour operators to create virtual visualizations of a specific location to give viewers a panoramic 360-degree view of that location. With virtual tour software, viewers can visit a location and get a good feel and perspective of how it looks without being physically present there.
Who Uses Virtual Tour Software?
Virtual tour software is used as a marketing tool by businesses in different industries.
• Travel Agencies
It is often used in the tourism industry by travel agencies to create a 360-degree visualization of various destinations for prospective tourists.
• Real Estate Agencies
The software is also used in the real estate industry as a tool for marketing properties that are on sale. When integrated with other dedicated tools for creating real estate tours, a virtual tour creator creates a more immersive experience for prospective buyers who would like to inspect a property they intend to buy when they cannot be physically present.
• Hotel Marketing Teams
The marketing teams of hotels and other small businesses use a virtual tour software to promote their products. It may be incorporated as part of a brand's promotional efforts into websites and social media pages.
• Schools/Academic Environments
When used in classrooms and other academic environments, students can take virtual visits to museums and other historic locations or incorporated into the learning curriculum for a more exciting and immersive learning experience. Nowadays, many universities and colleges are starting to offer virtual campus tours to their future students.
Why Use Virtual Tour Software?
Virtual tour software is a versatile marketing tool that can help bring more clients and customers to your business. It makes it possible for prospective customers to get a virtual view of your business and create a feeling that they are right there at your location even though they aren't. This is the best way to show them what your business has to offer accurately. A virtual tour gives a more detailed and accurate picture of your business than still photography or ordinary videos would.
Benefits of Using Virtual Tour Software
Location Transparency: by getting a more realistic and up-close view of your business location, viewers will be able to get a sense of transparency from your business. Even when they cannot visit you in person, viewers can be sure that what you are offering is exactly as you claim. This makes it easier to build trust in your business thanks to the immense detailing that virtual tours offer.
Marketing & Sales: Virtual tours can be used as a sales and marketing tool. Typically, people research businesses or locations before they make a buying decision. More often than not, whether they decide to buy or not depends on the information they can gather during their research.
A virtual tour may sometimes help bump users in the direction you want them to go. This is because a virtual tour usually gives prospective clients or customers more confidence in your business as they can already see how things work. Naturally, this makes them more likely to patronize you. The conversion rate of products advertised with 360-degree virtual tours is often higher than those advertised with regular 2-dimensional photos.
What You Can Do with Virtual Tour Software
Virtual tour software is used to create a virtual tour either from images taken with omnidirectional cameras or by combining photos through image stitching. Virtual tours are produced in a way that gives users full control over what they want to see. They can zoom in or out or enhance a specific scene for more detailing.
It is also possible to incorporate descriptive texts and interactive hotspots containing external links, annotations, and other elements to provide more information and give viewers a more immersive tour experience. In addition to making it easier to capture and create virtual tours, virtual tour software is also a tool to easily upload, share or publish a virtual tour you have created.